Here is a list of our Pro Staff members
Brad Bellile
Ever since Brad Bellile was a kid, all he wanted to do was be outside hunting, fishing, and have hunting or fishing as a profession. From the second the bus dropped Brad off from school, he would get his dog and off they would go hunting birds,squirrels,cats,and rabbits with a BB gun. Growing up Brad was mentored by his grandpa and his dad. He loved every second of it. As Brad grew older he focused on how they hunted and what they taught him about respect for the outdoors. Bow hunting, duck hunting, fishing, gun hunting and muzzleloading are what Brad has a passion for. In the off season he enjoys shed hunting and putting in food plots for his friends and himself. Brad is looking forward to this next adventure of being on Horny BuckSeed Pro Staff.
David Bente
Being raised on a dairy farm in Southeastern WI piqued my curiosity of the outdoors at a very young age. Whether tromping through the woods or splashing through the field ditches, I was always outside. I started gun hunting for deer at the states earliest allowable age at the time of 12.
Through the years I have added archery deer, pheasant, waterfowl, and turkey hunting to my passions. Just being in the outdoors enjoying God's creation is where I prefer to be.
I have since introduced my children to the outdoors and enjoy our time together outdoors. Hunting has lead me to many places and I have met lifelong friends that share the common interest. I still reside in Southeastern WI and enjoy all the opportunities this great state has to offer.
Mike Mecca
Mike Mecca is from Northeast WI (Green Bay Packer country). Avid Bow and Gun hunter for over 24 years
24 years of all things whitetails in Ontario Canada, Northern WI and northeast WI are my primary territories with food plots in both WI locations.
Tommy Brandenburg
Tommy's obsession White Tail Deer began at a young age. After Church his father would take him to film deer at local forest preserves. He shot his first deer at age 11 at five yards with his 20 gauge shotgun. At the age of 14, he got his first bow harvest, a nice three point buck.
His passion for hunting has grown throughout his life. Tommy has discovered a passion for self-filming his own bow hunts, and recently filmed the kill of his largest buck to date- a feat he is incredibly proud of.
Tommy is a true hunter that takes his passion with him year round. During the spring and summer you will find him planting and taking care of his food plots, planted with Horny Buck Seed, in Illinois, Michigan and Ohio. He also enjoys hunting in Nebraska and Missouri, and anticipates the day he can hunt in other states and Canada.
After season, he continues the hunt by searching for shed antlers throughout Illinois, Michigan, Iowa and Ohio. Tommy has a large shed antler collection that can be seen at several deer and antler shed shows in Illinois. Additionally, his basement in his home has been converted into a large display for Trophy Bucks, Big Gobblers and shed antlers, among other various wild life finds and kills
When he is not hunting, Tommy owns his own successful carpentry and remodeling business. Additionally, he crafts shed antler holders and wall mount displays that he sells through the internet and at deer and shed shows. Tommy also spends as much time as he can with his family- his wife, Christie and two young daughters, Avery and Brynn.
Tommy shot his biggest buck to date last year using Horny Buck Seed and the seed has changed the way he plants his plots forever.
"Horny Buck Seed grows big bucks and I have proof!
Brian Howell


Brian Howell has been an avid outdoorsman his entire life. Born and raised in Northern Illinois, Brian spent his adolescent years fishing and exploring nature. As the years went by, the outdoors consumed much more of his time, becoming a year round addiction. Brian began to deer hunt at age 14; archery being his favorite method of choice. Now with over 25 years' experience and many trophy whitetails to his credit, he attributes his lifelong love for the animal and his experience in the field. Brian's second love is shed hunting; he spends hundreds of hours and countless miles to pick up these treasures in the bush.
When not hunting, Brian can be found just about anywhere a whitetail deer can be found. Whether it's taking photos, videotaping or just out for a walk, he's always got the elusive whitetail deer on his brain. Brian has been employed by the Benjamin Moore Company for over 20 years. Brian is a proud member of the AWA (American Whitetail Authority) Pro Staff and named one of the top whitetail hunters in the world. Brian lives in Freeport, Illinois with his wife Michelle and their three children who love the outdoors.
Ryan Smurawa


My love for the outdoors started at a very young age, when my dad would take me hunting small game with my BB gun. At the age of 6 he took me out deer hunting for the first time and since then I have been hooked. Bow hunting is my true passion. I also enjoy taking kids and new people into the outdoors. I donate a lot of my time to taking disabled kids and veterans out hunting and fishing thru a foundation called Take' em Outdoors. Over the past few years I have started to video hunts, which I really enjoy. I believe a camera is just another way to hunt. I have hunted in my home state of Wisconsin for whitetails, bear, turkey, grouse, pheasant, ducks, geese, coyote and whatever else I can find to hunt. I have been lucky enough to go on a few trips to Canada, Missouri and the U.P of Michigan. Hunting is just a way of life for my family and me. It's not all about the kill it's about the time spent with friends, family and new friends you make along the way.
Joe VanHaren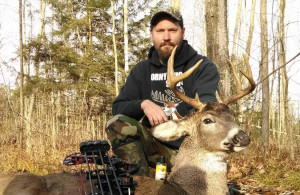 I was born and raised in northern WI. I have always enjoyed the outdoors since a young age, growing up walking in the woods and watching the wildlife. Deer hunting has always been a family tradition since I can remember. I hope to carry the tradition on to my 3 boys. Bow hunting along with muzzleloader is my main passion for hunting. I can remember the first squirrel I shot, even had it mounted. To this day I still get excited when I or somebody close gets a deer or any wildlife. The enjoyment of providing the wildlife with food plots and mineral sites was great. The outcome of using Horny Buck Seed Products has been great and will continue to grow to grow big racks. Enjoy the outdoors. 
JR Prostaff
Connor
I have been passionate about the outdoors since I could walk. My dad was the key in introducing me to outdoor activities by taking me along on all his adventures. Whether it was toting along my toy gun behind my dad while deer hunting or sitting with him in a blind waiting for that perfect gobbler, I was always there. At 12 years old, I already accumulated an impressive collection of big game animals including Elk, Whitetail Deer, Alligator, Turkey as well as numerous species of small game. My hunting calendar this year is loaded with out-of-state hunts, but more importantly he gets to do his favorite thing in the world which he says is "Spending time with my DAD"!
Kal
Hunting has been a huge part of my life up to this point in time. With the strong influence of my family and friends they have turned me into the avid outdoorsman to say the least. Starting at the young age of 5 I vividly remember sitting in the tree with my dad as he proceeded to show me the basics of hunting. In my five years of hunting I have been fortunate enough to harvest 3 whitetails scoring over 125 inches.
Tanner
Hunting has been a huge part of my life, and has shaped me to be the person that I am today. I have been hunting with my father since I was the ripe young age of 6 years old. My father has been a huge influence to me and my life in the woods. This last gun season I was fortunate enough to harvest a buck off of my families hunting land that was aged by the taxidermist to be 6 ½. I along with the few other hunters on our property are firm believers in Quality Deer Management and do whatever we can to improve our land.
Cali


Cali was born at 26 weeks gestational @ 1lb 8oz. and remained in the NICU for the first 3 months of her life. As a result she has a life altering illness known as Cerebral Palsy and is 100% dependent on her family.
Although Cali is bound to a wheelchair with very little, to no use of her extremities, she is an extremely active young lady. She participates in numerous sporting activities, including baseball, downhill skiing, water skiing, horseback riding, hockey, fishing and hunting. She loves her Green Bay Packers and the NFL as well as most all sports. Cali does have her girly, girl side too. She participates in the Pageant of Hope (a beauty pageant for girls with special needs) each year, as well as enjoys her music, broadways shows and dressing up. She is also a big sister to 2 very rambunctious 2 year olds, a brother and a sister.
She was introduced to hunting by her father at the age of 4. She has joined her father in the deer blind on numerous occasions and was there to witness her step-mothers first bow kill. This past fall at the age of 12 she began hunting for herself. The 2012 season she harvested a whitetail buck, 2 whitetail doe and a black bear via the use of adaptive equipment. She will be partaking in her first wild turkey hunt this spring (2013).
This device uses a security camera mounted in front of the scope that displays the scopes image onto a LCD screen mounted above the scope. The trigger is activated via a Sip n' Puff mechanism.