Here are some of our Pro Staff members
Mike Mecca
Mike Mecca is from Northeast WI (Green Bay Packer country). Avid Bow and Gun hunter for over 24 years
24 years of all things whitetails in Ontario Canada, Northern WI and northeast WI are my primary territories with food plots in both WI locations.
Tommy Brandenburg
Tommy's obsession White Tail Deer began at a young age. After Church his father would take him to film deer at local forest preserves. He shot his first deer at age 11 at five yards with his 20 gauge shotgun. At the age of 14, he got his first bow harvest, a nice three point buck.
His passion for hunting has grown throughout his life. Tommy has discovered a passion for self-filming his own bow hunts, and recently filmed the kill of his largest buck to date- a feat he is incredibly proud of.
Tommy is a true hunter that takes his passion with him year round. During the spring and summer you will find him planting and taking care of his food plots, planted with Horny Buck Seed, in Illinois, Michigan and Ohio. He also enjoys hunting in Nebraska and Missouri, and anticipates the day he can hunt in other states and Canada.
After season, he continues the hunt by searching for shed antlers throughout Illinois, Michigan, Iowa and Ohio. Tommy has a large shed antler collection that can be seen at several deer and antler shed shows in Illinois. Additionally, his basement in his home has been converted into a large display for Trophy Bucks, Big Gobblers and shed antlers, among other various wild life finds and kills
When he is not hunting, Tommy owns his own successful carpentry and remodeling business. Additionally, he crafts shed antler holders and wall mount displays that he sells through the internet and at deer and shed shows. Tommy also spends as much time as he can with his family- his wife, Christie and two young daughters, Avery and Brynn.
Tommy shot his biggest buck to date last year using Horny Buck Seed and the seed has changed the way he plants his plots forever.
"Horny Buck Seed grows big bucks and I have proof!
Joe VanHaren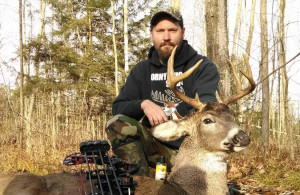 I was born and raised in northern WI. I have always enjoyed the outdoors since a young age, growing up walking in the woods and watching the wildlife. Deer hunting has always been a family tradition since I can remember. I hope to carry the tradition on to my 3 boys. Bow hunting along with muzzleloader is my main passion for hunting. I can remember the first squirrel I shot, even had it mounted. To this day I still get excited when I or somebody close gets a deer or any wildlife. The enjoyment of providing the wildlife with food plots and mineral sites was great. The outcome of using Horny Buck Seed Products has been great and will continue to grow to grow big racks. Enjoy the outdoors.