Welcome!
If you're new to HB Seed Co. or food plotting, thanks for checking us out! And to all our customers, thanks for your continued support! Your success is our success, and we're looking forward to helping you make the most of the upcoming season.
Whether you've been using HB Seed Co. products for a while or you're visiting us for the first time, you may be wondering how a company like this came to be. The story has been told many times, in person and on podcasts, but we've never really explained our story here. So, if you sit back and relax, we'll take you on a brief walk down memory lane.
Meet Doug Kostreva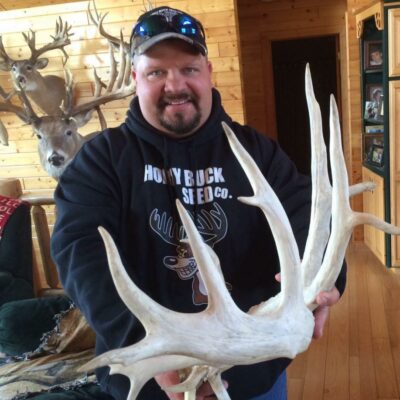 Doug grew up on a family farm that was established in 1917 in northeast Wisconsin – in fact, he still lives there. He's a third-generation farmer and still raises beef cattle today. Using the knowledge from his farming background, he started planting food plots in the 80s, mostly for people who were interested in attracting deer so they could watch them in their yards. Through the years it was something Doug did on the side – that is, until life decided to throw the Kostreva's a curve ball. Both Doug and his wife were laid off, and after some deliberation, he decided it was time to take his part-time gig and turn it into a business.
"But what do we name it?"
Can we just mention really quickly: we do know they're called antlers.
But have you ever been driving around, spotted a big buck in a field, hit the brakes and said, "Look at the horns on that guy!"?? It can't be just us. Even Doug's wife says it, so you know it's legit. In fact, she says it so much that when it came time to name this new business she said, "Why not Horny Buck Seed?" You know, after their horns. What were you thinking?
You have to admit, it's pretty clever. And so, this play on words led to the Horny Buck Seed Company (now shortened to HB Seed Co.) being born in 2012. Doug contacted his brother, a graphic designer, and after a few designs, Horny the Buck became the official mascot and logo.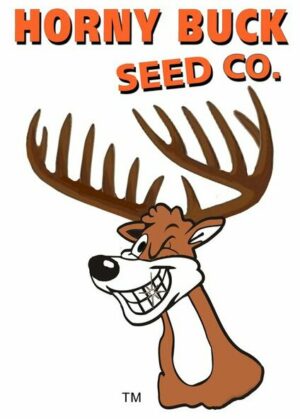 HB Seed Co Today
So, what is HB Seed Co about? For starters, as our homepage will tell you, we're all about the freshest seed! But not only are the seed blends fresh, they include variety. Just as you wouldn't want to eat the same thing for every meal, deer also like to mix things up — and HB Seed Co delivers with the deer groceries. The blends are all designed to be high in nutrients to help maintain a healthy herd for bucks, does, and fawns alike.
Beyond the products, though, HB Seed Co. is all about helping customers succeed. We want to provide you with the know-how to plant and grow healthy plots that keep the deer coming back for more. When customers connect on the deer of a lifetime – whether it's their first, biggest, or somewhere in between – thanks to their HB Seed food plots, that is the ultimate reward.
You don't need to be a third-generation farmer like Doug to plant healthy food plots. Our goal is to provide you with the information and support you need to attract deer, maintain a healthy deer herd, and see that sweat-equity pay off! We love helping people, so we hope to provide more content in the future to assist you in as many ways as we can – and we hope to keep having fun doing it!
Check back frequently for more tips and updates. If you missed us at the Wisconsin State Hunting Expo in Green Bay, don't worry! There will be plenty of chances to meet and learn from the HB Seed team in person coming up. More details soon! In the meantime, be sure to keep up with us on Facebook.